"This shop is part of a social shopper marketing insight campaign with
Pollinate Media Group
™ and
Hillshire Brand Company
but all my opinions are my own. #pmedia
#buy3save3
http://cmp.ly/3/8vNxcO
"
I knew motherhood would be time consuming and I knew a baby would be a lot of work but I didn't know a baby would be this much work. Ford is two months old and I am finally feeling like I have a handle on juggling caring for him and maintaining my home. The hardest part has been getting back into cooking regular meals for my husband because we have been blessed with meals being brought to us for the past couple of weeks. Not that I spent hours preparing homemade dishes before Ford was born but I am always looking for quick and easy ways to get a healthy and delicious meal on the table. Our little guy tends to be quite needy in the evenings so if I can take a few minutes during the day to prep a meal that is ready once dinnertime rolls around, I am game!
Now I know I've mentioned before how we could not survive as vegetarians in our household. I have coined Jon "the protein police" because he is always making sure I get enough protein in my diet
(especially now that I am breastfeeding Ford, he wants to make sure Ford is getting the goods!)
.
I headed on over to my neighborhood Safeway store, Randall's, to check out their selection of Hillshire Farm meats. I can't help but to pump my fist in the air and shout "Go Meat!" when I hit the meat section
(okay not really but I do say it in my head!)
. I always try to keep pre cooked meats in the house to add to recipes or whip up with eggs in the morning instead of having to waste time waiting on the meat to cook. This Hillshire Smoked Beef Sausage Rope is exactly the thing I need to take a carbohydrate rich meal to protein filled. I can't wait to share one of the easiest and most delicious meals with you that has become a staple in our household!
Ingredients
1 Hillshire Farms Smoked Sausage Rope
(either beef or turkey)
1lb seafood of your choice
(I recommend precooked shrimp)
1 box Tony Chachere's Jambalaya Mix
(you could also use gumbo mix)
I feel silly writing directions on how to make this meal because it is as simple as following the directions on the jambalaya box and adding your meat! You have a yummy Cajun meal ready for serving in about 25 minutes. Can't beat that. And I have even more good news! Safeway is running a Buy 3, Save 3 deal where if you sign up for their
Just For U program, you will save $3 when purchasing 3 Hillshire Farm products. This deal is only good until this Saturday 10/19 so jump on it folks!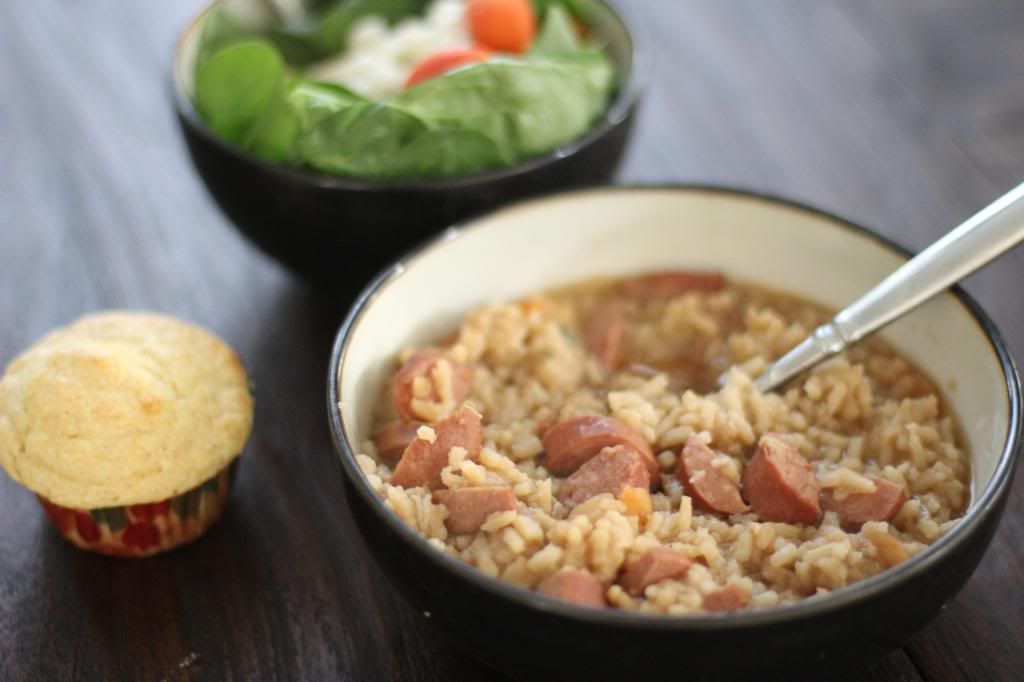 Find Hillshire Farm on Facebook & Twitter
Check out the Hillshire Farm recipe page for more delicious meals!
Although I shopped at my neighborhood Safeway store, Randall's, this post was sponsored by Hillshire Farm.