"This post is part of a social shopper marketing insight campaign with
Pollinate Media Group
™ and
Cottonelle
, but all my opinions are my own. #pmedia
#CottonelleTarget
http://cmp.ly/3/8vNxcO
."
The 2nd annual Hart's Halloween Hootenanny was a success! This year was a tad different than last year's late night, loud music, baby-less shin dig but it was just as fun! We decided to take advantage of our beautiful new deck and cooler Texas temps and grill out for our neighbors and friends. Since we invited lots of kiddos, I wanted there to be kid friendly activities and games to keep them well entertained (and let's face it, my toy-less house isn't too fun for elementary school children). I'll give you a peek at our costumes...
A family of homemade garden gnomes!
We had corn hole and badminton set up for both adults and kids and the weather couldn't have been more perfect! Earlier in the week I hit up Michael's Craft Store to see what I could come up with for a craft table for the kids. I bought an array of foam pumpkins, stickers, wooden Halloween pieces, and paint and set it up on our table inside. It was a hit!
You may be wondering why I have toilet paper on the table? On last week's Target run, I picked up a 12 pack of Cottonelle's Triple Roll for a fun and crazy game that I knew the kids would love. We paired them up, gave them a couple of rolls, and had a mummy wrapping contest. I will let the pictures do the talking!
(use this coupon while supplies last and head to Target and receive a free box of Kleenex tissues when you purchase a 12 pack or larger of Cottonelle's Triple Roll...just in time for allergy and flu season.)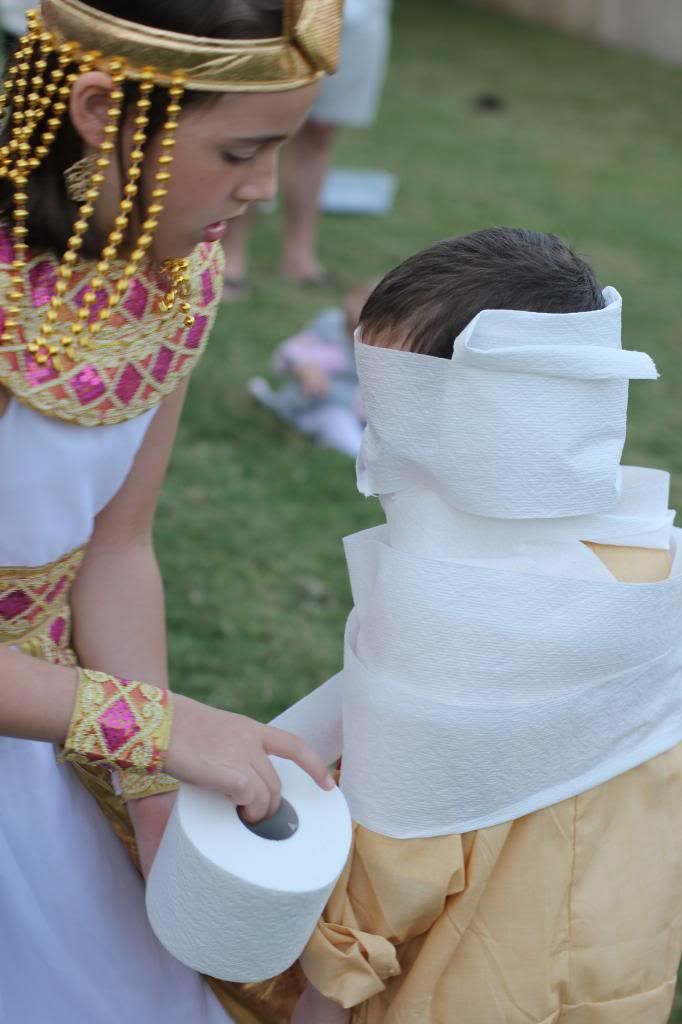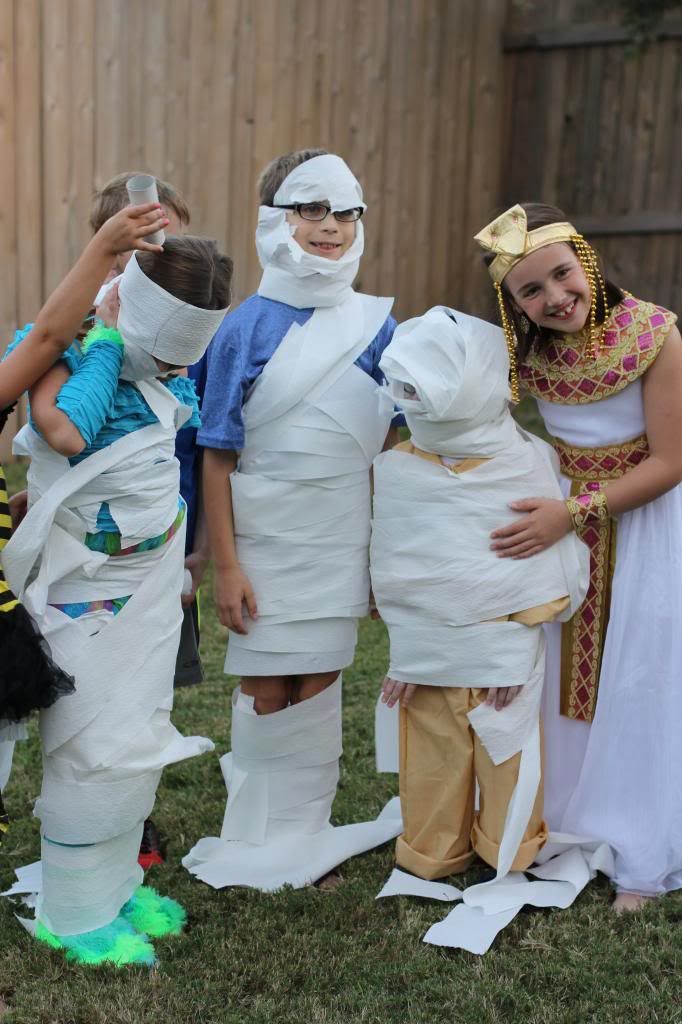 If you can't tell from the pictures, the game was hilarious. I wish I would have gotten video! If you're looking for a good game to keep the kiddos entertained for 10 minutes, grab some TP and let them go crazy! I also wish I would have gotten a picture of the aftermath in my backyard- I kid you not there was probably 200 pieces of ripped up toilet paper scattered all over. We had another contest... who could pick up the biggest ball of TP. Thank goodness for kids who love anything that's a competition!
Don't forget to grab this coupon while supplies last and head to Target to pickup your Cottonelle Triple Roll, whether it be for a spooky and fun Halloween game or to wipe little bottoms with!